caricatures
photographiques
L'élection présidentielle de 2017 a eu lieu dans un contexte social et économique perturbé. Le paysage politique français s'est modifié et complexifié. 
Expolitique a pour but d'imaginer les coulisses  de la politique en tournant en dérision l'image élaborée et édulcorée 
que les personnalités politiques tendent à se donner.
Ce projet est basé sur une série de satires photographiques qui détournent les affiches des principaux candidats  à l'élection présidentielle. C'est avant tout une vision critique et personnelle de la sphère politique française.
The 2017 french Presidential Election took place in a disrupted social and economic environment. The political landscape has changed significantly and has become more complex. 
The goal of Expolitics is to imagine backstage of politics, deconstructing and ridiculing the constructed and sweetened image that politicians tend to build for themselves. The project consists in a series of caricatured and humoristic photographs based on the main candidates' political posters.
Above all, it's a critical and personal vision of French politics.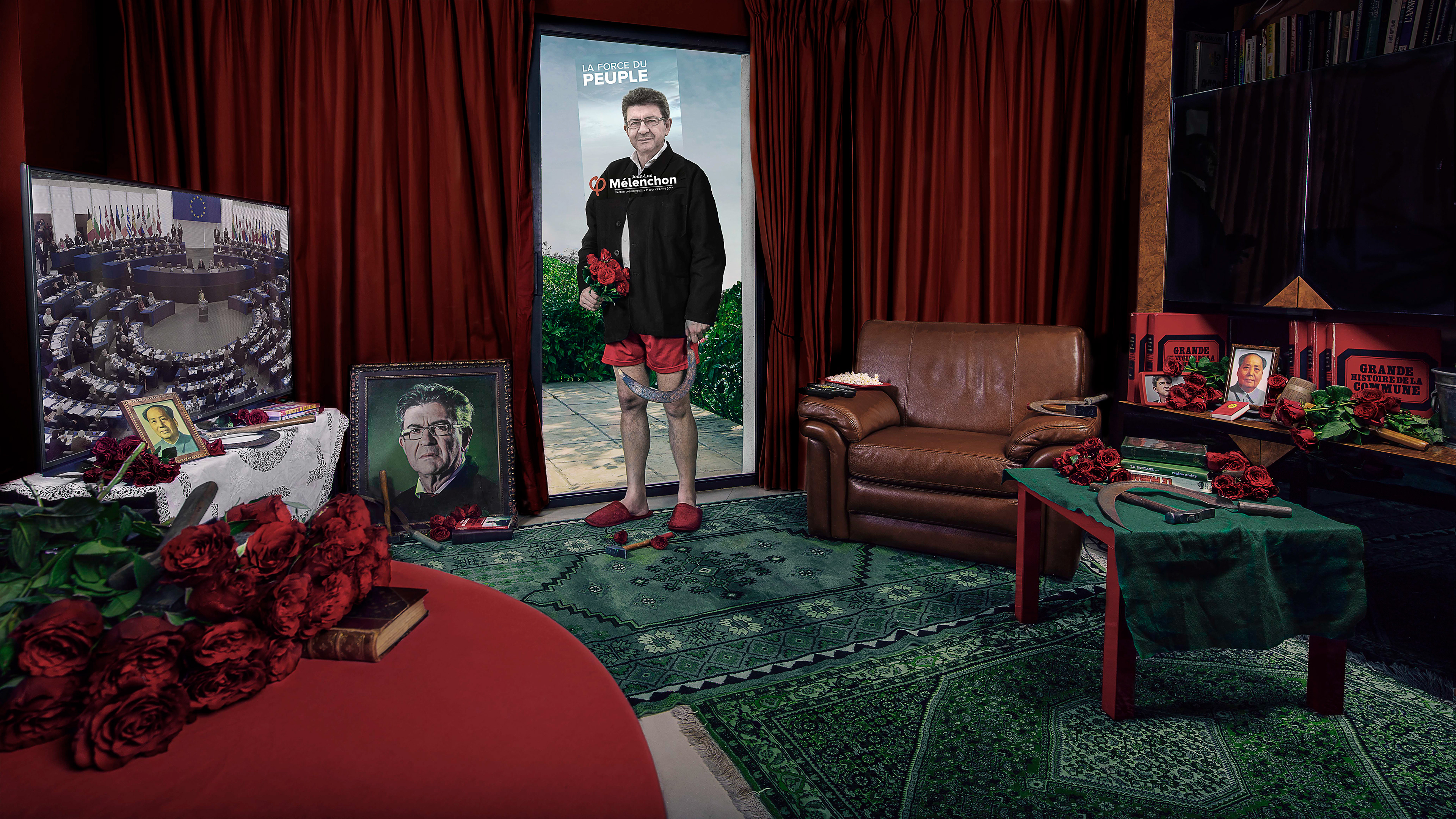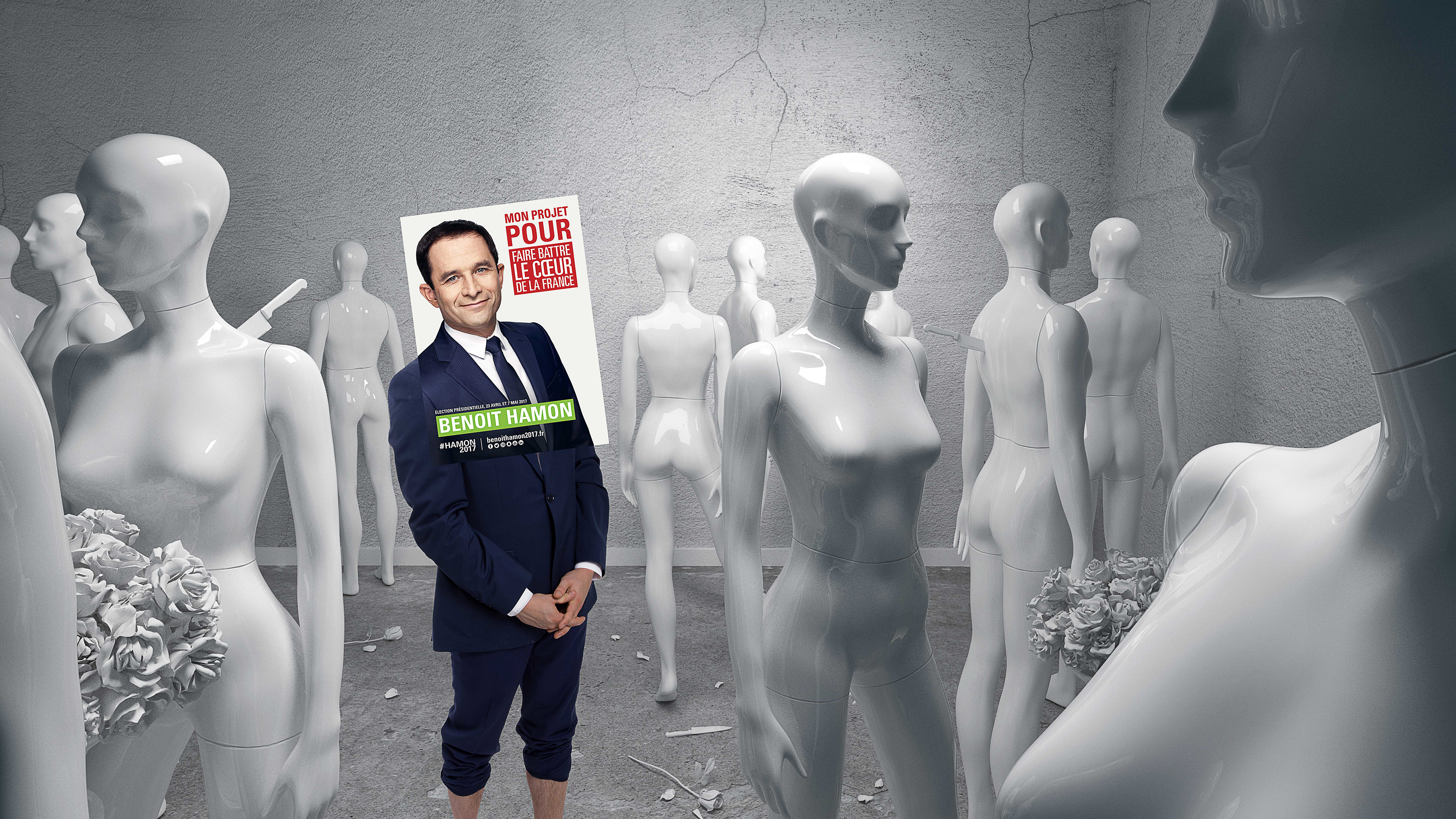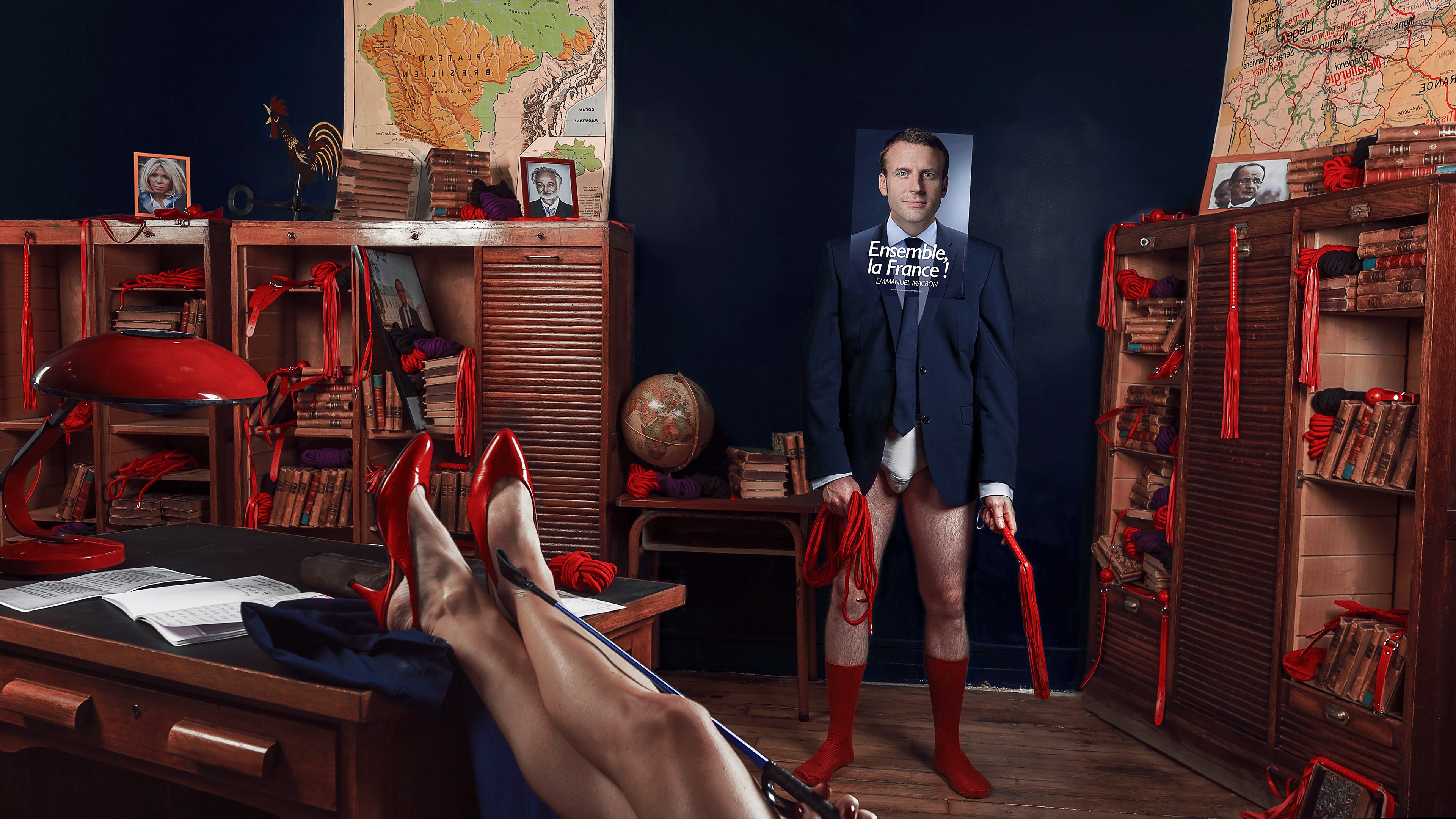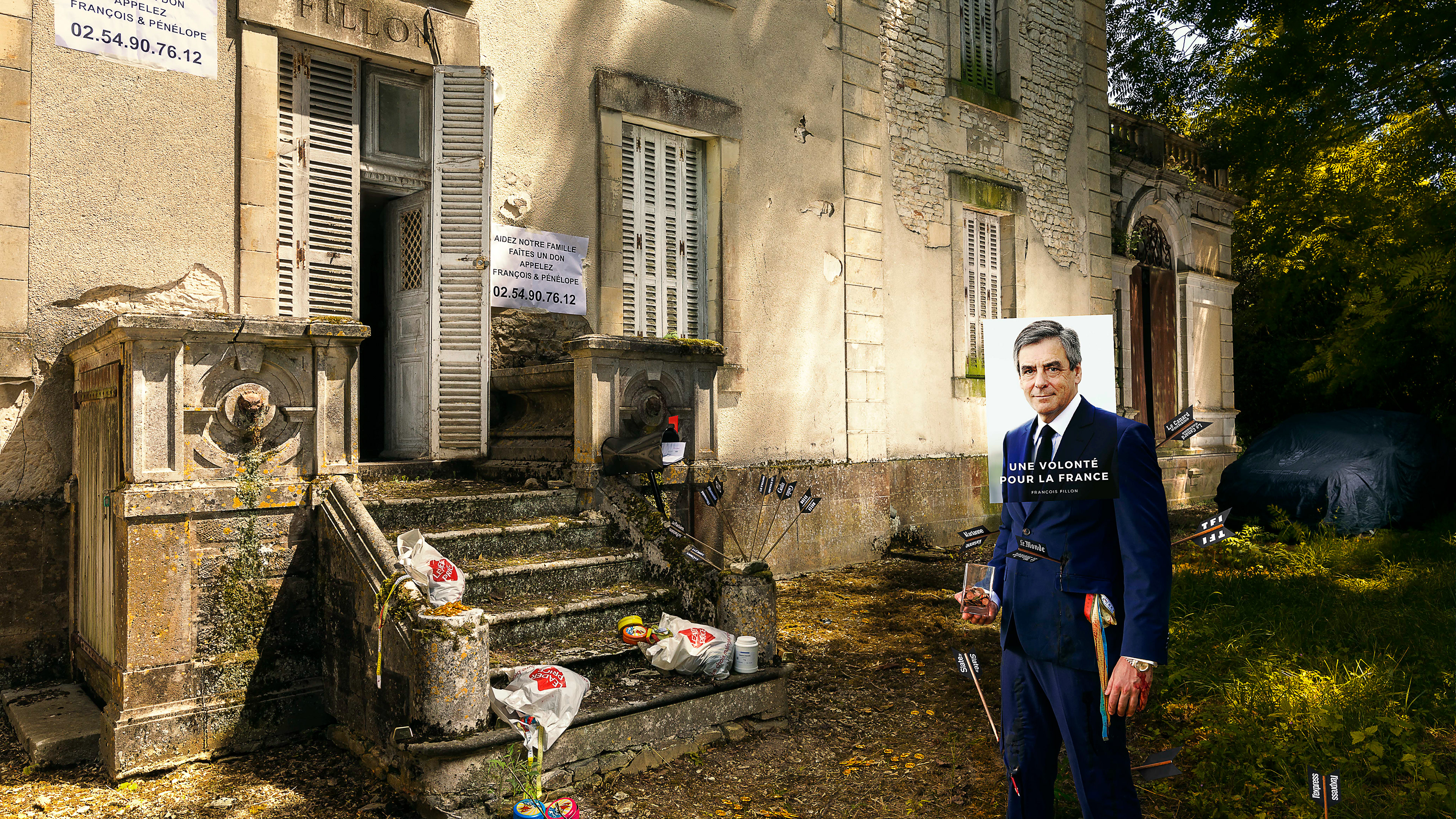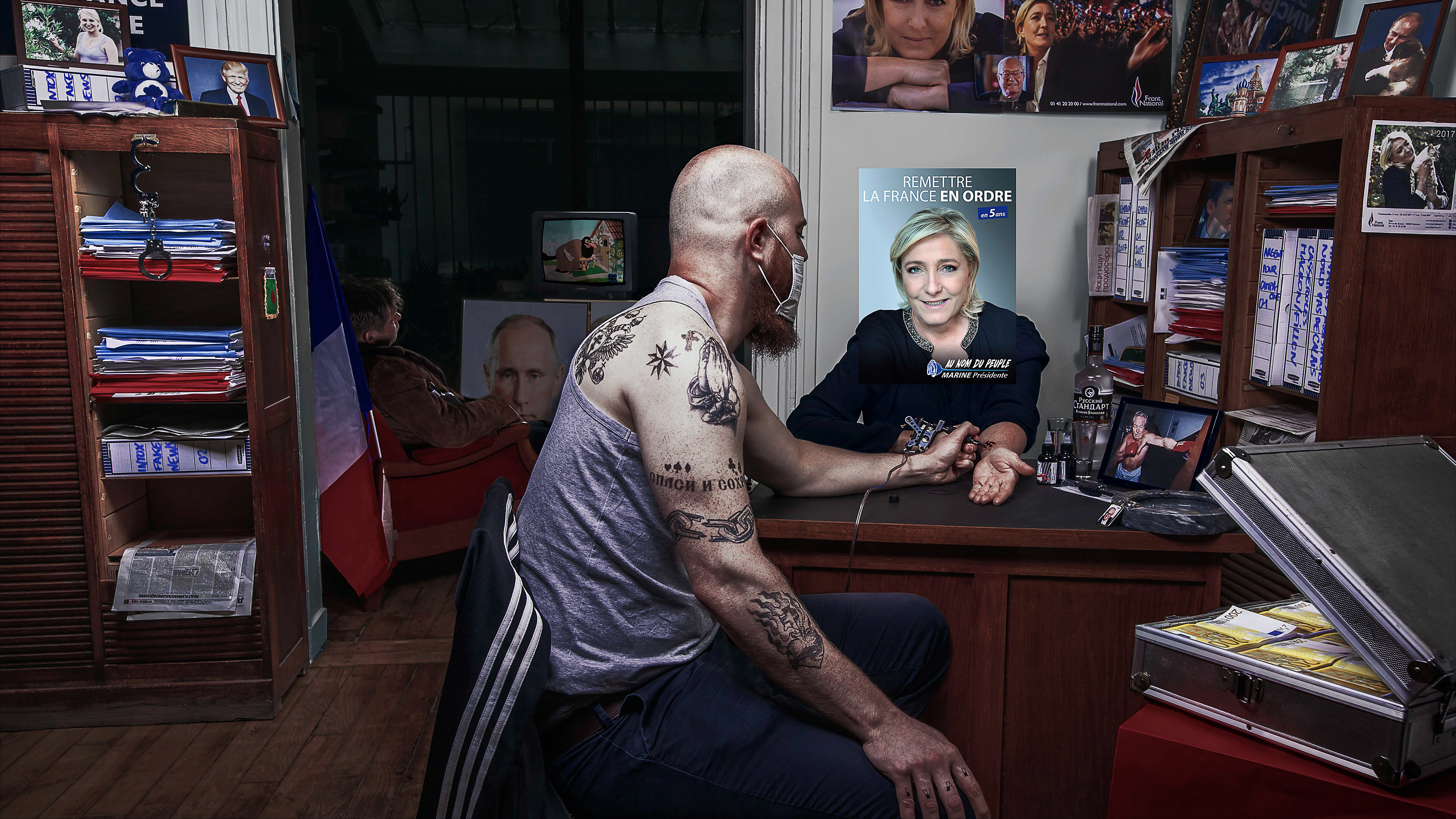 Pour expliquer la démarche d'Expolitique et permettre de mieux appréhender les moindres subtilités de chaque photographie, j'ai inclus dans mon projet un livre. 
Ce livre s'articule en six parties : la première est constituée par le cahier de production de ce projet et, les cinq autres sont chacune dédiée à un candidat.Pour chacun d'entre eux, le livre reprend des agrandissements de la photographie principale, des articles de presse illustrant certaines des thématiques abordées, des photographies des objets assorties de légendes. 
Tous ces éléments permettent de mieux interpréter, et déchiffrer les photographies principales, que ce soient des détails jouant sur la symbolique ou bien des détails plus terre à terre concernant davantage la politique.
In order to make the audience understand the meaning of every single details in those five photographs, I made a book.

This book is divided into six parts: the first one is an explanation of the project itself and why I decided to make photographs, the five other parts deal with each main candidates for this Presidential election. For each candidate, there is: close up of the photograph, newspaper articles that explain the context, and photographs of the objects that helped me build those photographs.

All those elements help understanding the photograph, the symbolic behind certain object or just the story that's being told.